From www.filmmakers.com


Acting
How Academy Award(r) Nominee Adrien Morot Created the Makeup for Barney's Version
By Eric Philpott
Feb 4, 2011, 10:20




Aged to Perfection
How Academy Award(r) Nominee Adrien Morot Created the Makeup for Barney's Version

Montreal, Que: February 3, 2011... Adrien Morot, head of makeup and hair on Barney's Version, has been nominated for an Academy Award(r) in makeup. The film, directed by Richard J. Lewis and starring Golden Globe winner and Academy Award(r) nominee Paul Giamatti, is based on the popular novel by the late Mordecai Richler. The story spans a 35-year period in the life of Barney Panofsky, a Montreal TV producer reflecting back on the events of his life. As the same actors were used throughout, makeup involved the significant challenge of gradually altering their appearance as they age in a way that is convincing for the audience but that remains subtle enough not to be distracting.

Along with supervising the entire makeup department on the film, a primary task for Morot and his team was aging the main characters over the course of the film using a combination of prosthetics, subtle makeup, hairstyling and artificial facial hair. Much of the effort was focused on Paul Giamatti, whose character starts out in his early 30s and reaches his late 60s by the end of the story. Others included Golden Globe and Academy Award(r) winner Dustin Hoffman, who plays Barney's father and Rosemund Pike, who plays Miriam, Barney's third wife.

"I've seen aging makeup done on other people I've worked with," said Pike. "I usually feel that the person is submerged in some way under layers of substance, and loses something of their essence, no matter how effective the transformation was. What Adrien managed to do was give Paul and I faces from which we could look with our own eyes and through our own expressions, that supported us, rendered the ageing of the characters believable, but left the whole process unobtrusive."

One of the challenges on Barney's Version was keeping the makeup subtle enough to allow the actors to deliver a full range of emotions for this performance-driven piece. Morot stressed that collaborating closely with the actors was the key to achieving this.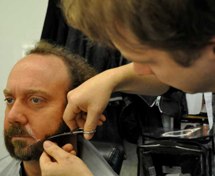 Adiren Morot applying Paul Giamatti's beard.

"Adrien started by asking me what I thought Barney should look like and how I thought he should age," said Giamatti. "He had a wonderful distinct makeup at the get-go, but he was amazingly collaborative, and intensely sensitive to what would help me act the part. And he was so fluid with his own design, shaping it, changing it, constantly refining it."

"Paul is an incredible actor " said Morot, "He really made our job easier and the makeup more convincing by portraying Barney perfectly at each stage of his life and I am really grateful for that. The same goes for Rosamund, who gave Miriam such class and elegance."

And although the audiences may not notice it, Giamatti is wearing makeup with various prosthetics throughout much of the film. "The alcohol bloat and weight gain were so convincing, people thought I had gained weight for the part," said Giamatti.

Barney's Beards
The standard approach to creating an artificial beard is to use an appliance, which is much like a wig with a special lace backing glued to the skin. However, lace beards cannot stretch with the actor's facial movements, and can limit the actor's expressions. "Even at a subconscious level, the actor can't be free to play his part if he is worried about his beard falling off," said Morot. "During our first makeup test, Paul asked if there was anything else we could do so that he didn't feel so restricted by the beard."

Morot opted to craft the beard by hand using a combination of human and yak hair. Each tuft was painstakingly glued down and the beard was built up layer by layer. Then a curling iron was applied to give it the look of real facial hair. Finally, the beard was trimmed and styled. "When we did the second makeup test with the new beard, no one realized it was fake. Paul was thrilled because without the lace backing, the beard moved with his skin. This was vital because it allowed him to feel natural and focus on giving his best performance without any distractions."

Morot was able to apply Giamatti's beard in under 30 minutes, from a total of the 2 hours and 15 minutes allotted for his prosthetic makeup application.

Aging Gracefully
Aging the character of Miriam, the love of Barney's life, presented other challenges.

"I know I do not have the easiest face to age," said Pike. "I think women in general, with a different quality of skin, are harder to age than men and Adrien had to be particularly subtle and inventive in his approach. He aged Miriam and then concealed the aging cosmetically, as any woman would. Adrien matched the skin tone of the prosthetics on my eyelids, cheeks and neck to my own, and then made the tone of my whole face uneven, as if it was aged. Then he concealed some of the aging with 'beauty makeup.' As a result Miriam had a face that was layered and real."

Morot said that he was floored by the Oscar(r) nomination. "I don't know if it's really sunk in yet," he said. "It's a tremendous honour and I'm deeply thankful."

Produced by Serendipity Point Films in association with Fandango, and distributed by Sony Pictures Classics, Barney's Version premiered at the Venice Film Festival and the Toronto International Film Festival. The film stars Paul Giamatti, along with Dustin Hoffman, Rosamund Pike, Minnie Driver, Mark Addy, Rachelle Lafevre and Scott Speedman. The producer was Robert Lantos. Barney's Version opened in theatres in December 2010.


© Copyright 2003 by www.filmmakers.com