From www.filmmakers.com


Music
SoundHound Sets The Audio Mood For Hilarious Promo Campaign For Spike TV's Video Game Awards
By Ray Ecke
Feb 21, 2007, 16:13






SoundHound Sets The Audio Mood For Hilarious
Promo Campaign For Spike TV's Video Game Awards
Award-Winning Sound Designer/Engineer Frank Cabanach
Creates Note Perfect Convention Center Ambience



New York, NY - Senior audio engineer/sound designer Frank Cabanach of SoundHound, the award-winning audio house specializing in sound design, audio post and original music for advertising, cable television and multimedia projects, completed work on a hilarious seven-spot campaign for Spike TV and their coverage of the 2006 Video Game Awards. The campaign, which centers on the petty debates and arguments among attendees at a fictional video game convention, was mixed in Dolby SurroundSound.

For Cabanach, the spot "Fight" presented the biggest creative challenge because in thirty-seconds the audio environment needed to seamlessly transition from a crowded convention center to a packed boxing arena.

In the spot two sexy, leather-clad ladies at the convention bump into each other accidentally. As dirty looks ensue, the nerdy male attendees' mouths water as they egg them on - first to fight then to kiss.

"I worked closely with Spike Creative Director/Executive Producer Maria Pecoraro and Producer Kelli Garahan, and from the outset we knew the audio was going to play a huge role in the success of the campaign," says Cabanach. "We needed to create this big convention-center-type environment, and because it was a video game conference it needed a vast array of videogame sounds - as if hundreds of people are playing different videogames at the same time. I mixed in SurroundSound so I was able to take different elements - retro video game sounds, current audio from video games, etc - and build an environment with a lot of depth."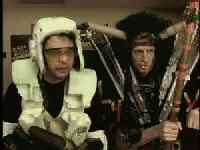 New hilarious seven-spot campaign for Spike TV by SoundHound

Working from the original source audio from the shoot, Cabanach sampled various videogames - from retro Pac Man-type sounds to modern ones - to create the pastiche of sounds of a gaming convention.

"The 'Fight' spot was a little more tricky because it transitions from the convention center to a big boxing arena," said Cabanach. "It needed to be subtle yet distinct. It took a little time to tweak it and get the pace right, but I think the effect adds a lot to the comedy of the spot."

About SoundHound
SoundHound (www.soundhound.com) specializes in sound design, audio post, original music composition, radio production and video editorial. Known for their comfortable environment and state-of-the-art technology, SoundHound is made up of award-winning creative engineers, sound designers and editors who work closely with producers and clients on a range of challenging projects. Clients include A&E, Cartoon Network, Discovery, FCB, Food Network, History Channel, Lifetime Television, Lowe & Partners, Sci Fi Channel, Sundance and USA Network, to name just a few. †


Creative Credits:
Client: SPIKE TV
Project: Video Game Awards promo campaign

Agency/Production: Spike TV, New York, NY
Creative Director/Executive Producer: Maria Pecoraro
Director: Aaron Stoller
Producer: Kelli Garahan

Audio Post: SoundHound, New York, NY
Sound Design/Audio Engineer: †Frank Cabanach
Editorial/Post: The Whitehouse, New York, NY

Web Resources:
Click here to see the Spike TV/VGA spot "Fight"
Click here to see all the spots on the Spike TV website
SoundHound's Corporate Site: www.soundhound.com

© Copyright 2003 by www.filmmakers.com